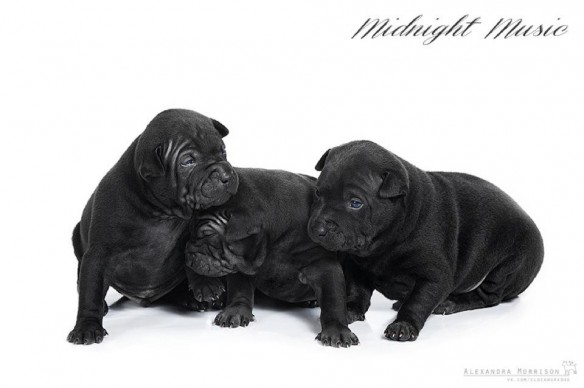 W hodowle Midnight Music urodził się pierwszy miot w 2012 roku po naszym Hiro i  słynnej Iglie!  To także pierwsze czarne szczeniaki po naszym psie. W miocie 2 dziewczynki i jeden chłopak. Oni się urodziły 28 września 2012 roku. Wszystkie są zdrowe i czują się dobrze, mają długie równe ridge, długie ogony bez załamków. Miot jest wolny od DS, to znaczy że to czysty miot tajskich ridgebacków!
Dam: Midnaight Music Mission Save Marsi:
Junior champion of Russia, Junior champion of Montenegro, Junior champion of Macedonia, Junior champion of Serbia, Junior champion of Bulgaria, Junior champion of Balkans, Champion of Russia, Champion of Ukraine, Champion of Lithuania, Romania, 4 x Champion of RKF, Champion of Eurasia 2010 (BOB), Champion of Eurasia 2012 (BOB), Candida
te to Champion of Thailand, 14 x CACIB, Interchampion, Multychampion, the winner of BIG(1,2,3 places), BEST-2 of International Dog Show.
Sire: Hiro Thai Pnlamaj:
Junior champion of Poland, champion of Belarus, champion of Poland, East Winner 2011, champion of Romania, Grand champion of Romania, champion of Ukraine X 4, Vice world champion 2011, Europe Champion 2011, champion of Luxembourg, Interchampion, Multychampion, candidate to Champions of Lithuania, Slovakia, The Netherlands, 14 X CACIB, 1 RCACIC from WDS 2011, 1RCAC,class champion WDS 2012, 18 X BOB, the winner of BIG (2,3,4 places).
Jesteśmy bardzo szczęśliwi i dumny z tego długooczekiwanego miotu! Spodziewamy się, że dzieciaki będą tak samo słynny, jak ich rodzice! Życzymy dzieciom szybko rosnąć, a matce dużo sił, cierpliwości i mleka!